Paper Cylinders With Rolled Edge
Paper Cylinders with rolled edge is another kind of paper cyliner tubes , the rolled edge are aimed to the top lid or base . Not all paper tube boxes are suitable for having a rolled edge , for example , those whose inside diameter is less than 3mm can not be done with rolled edge s, 3mm is the minimum size for the rolling machine . Also , too thin or too thick cardboard can not make the very perfect rolled edge , the most ideal thickness for paper Cylinders with rolled edge is 1.2mm. In addition , those matte uncoated paper are not suitable for the paper Cylinders with rolled edge as its edge may turn to be glossy when rolled . Round paper tubes can be done with display window as well , you can choose to hide or not to hide the edge of the window , it`s up to you .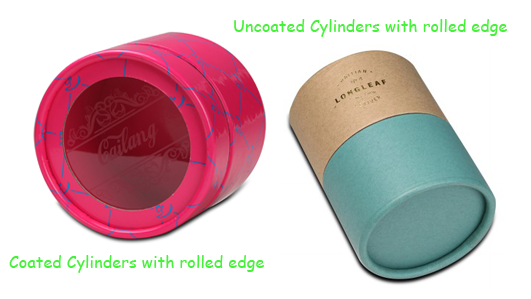 Fall in love with the our paper tubes , please feel free to contact us for a quotation .